Spectrum's Values
RESPECT | SAFETY | INTEGRITY | QUALITY | INNOVATION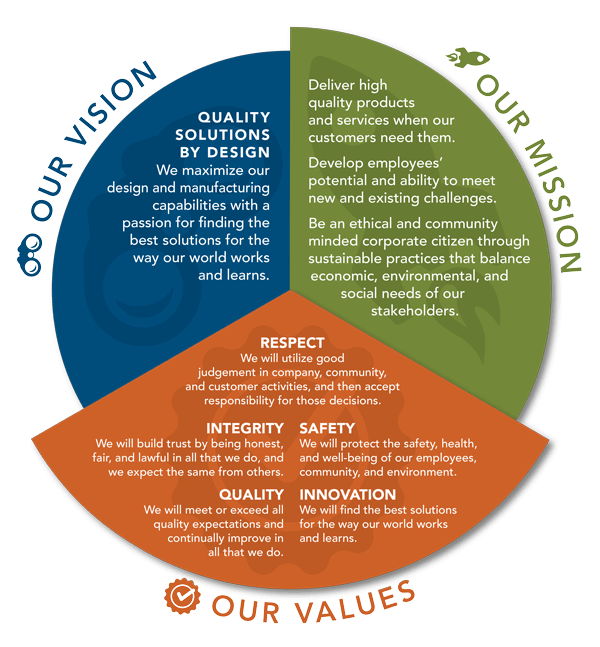 Spectrum's Mission
Deliver high quality products and services when our customers need them
Develop employees' potential and ability to meet new and existing challenges
Be an ethical and community minded corporate citizen through sustainable practices that balance economic, environmental, and social needs of our stakeholders

Spectrum's Vision
Maximize our design and manufacturing capabilities with a passion for finding the best solutions for the way our world works and learns


Spectrum's Corporate Strategy
Over the past 45 years, Spectrum Industries Inc. has carefully positioned itself to be a high-quality, niche furnishings manufacturer. To preserve that position in the marketplace, Spectrum's Executive Management Team annually engages in the planning process. Extracted from the regularly updated 5-year strategic plan, the annual business plan serves as Spectrum's implementation phase of the planning process. Underpinning its annual business plans, Spectrum continually strives to excel at:
Providing our customers with a positive experience when interacting with Spectrum.
Continually improving in all that we do, especially as it affects quality and safety.
Utilizing new product development, especially as it relates to non-commodity, niche products, to drive new sales opportunities and growth.
Pursuing new markets.
Being the employer of choice within the company, the community, and the industry.
Being a good corporate citizen.
Spectrum's Quality Policy
Spectrum Industries will provide products and services that meet or exceed all customer expectations. Our success is driven by a company-wide commitment to continually improve in all that we do.



Have a question?
We want to hear from you! Contact our team today!