Back to News
Spectrum's Newest Mobile Computing: Small But Mighty
---
FOR IMMEDIATE RELEASE:

Description: Front loading and small footprint makes SIM32 stand-out.

CHIPPEWA FALLS, WI – Spectrum Industries Inc., has introduced the SIM32 Cart which has the smallest footprint of any Spectrum design. The SIM32 measures 24 inches wide, 22 inch in diameter and 37 inches in height. The small cart can store an impressive amount of laptops or tablets, 32 to be exact.

The SIM32 can also store and charge iPads, Chromebooks and notebooks. Durable plastic dividers are used to separate and protect devices. The SIM32 offers easy accessibility and storage of electronics due to its front-loading door. This system keeps cords organized and offers a large storage space. Rotated and staggered power outlets built into the SIM32 can fit most AC plug adapters. The SIM32 is composed of heavy steel making it one of the toughest carts on the market and also comes with a single-bolt latch for security.

There are two available models of the SIM32; one with a Power Switch and one with the eLogix Timer. The eLogix Timer available contains a power switch and LEDs that help identify which electronics are charging. The SIM32 is ETL listed to UL 60950-1 standard.

"With the SIM32's small footprint, durable structure, and capability to store and charge up to 32 devices, this product would be a great addition to any classroom" said Ben Jones, Vice President of Sales. "With it being a front loading cart, the SIM32 makes for easy deployment and wiring."

The user-friendly cart offers easy mobility due to its five inch balloon wheels, handle and small footprint. The SIM32 features a scratch and impact resistant top including ventilation. Spectrum's mission is to connect people with technology and continues to do so with products like the SIM32. Click here to find more information on the SIM32.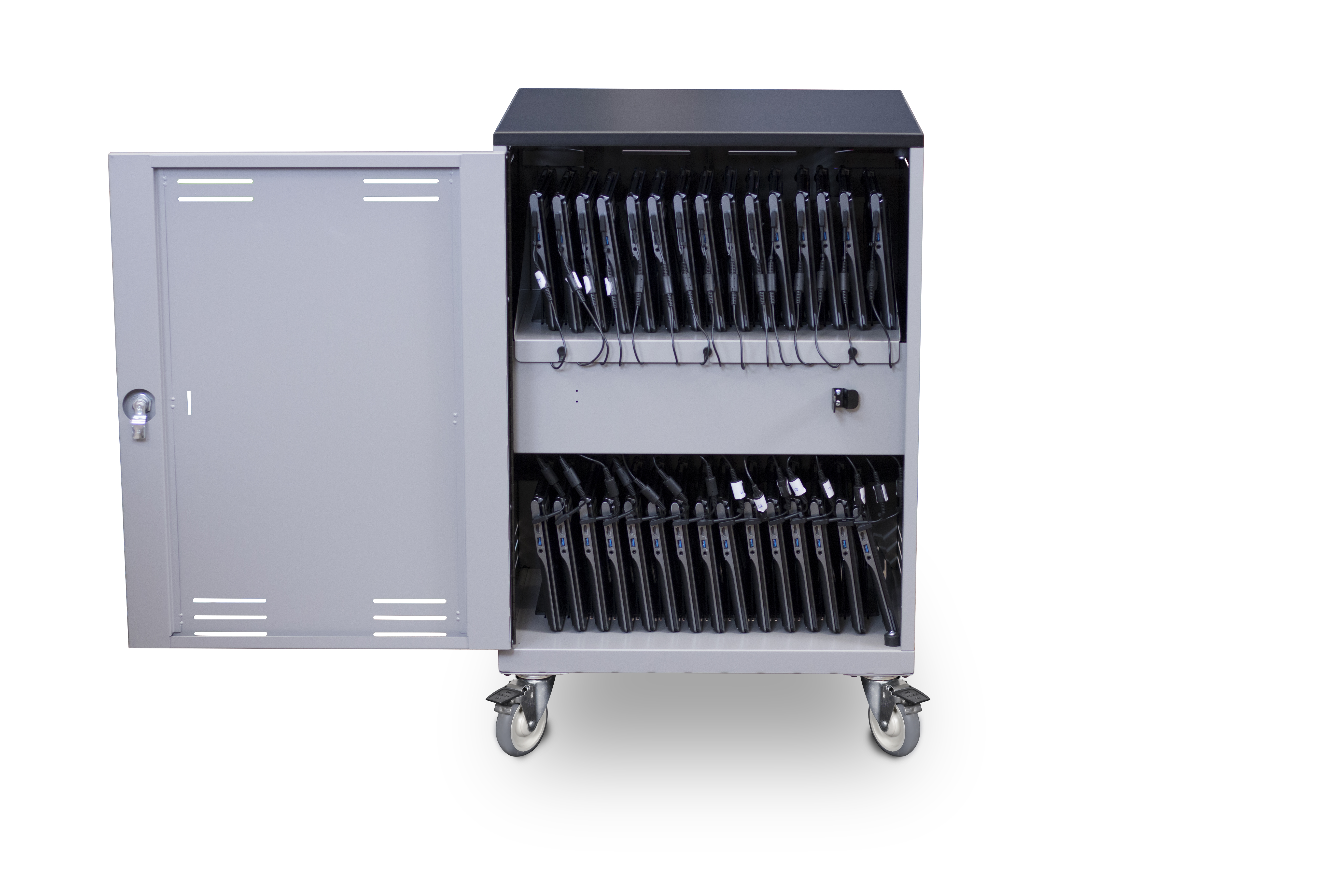 About Spectrum Industries Inc.

Spectrum Industries Inc., originated in 1968 with its headquarters located in Chippewa Falls, Wisconsin. With over 4,300 different products manufactured and shipped throughout the world, Spectrum continues to meet customer needs and create new durable products that are made to last for years. Annually, the furniture industry ranks Spectrum among the top 300 furniture manufacturers.

Along with Spectrum's initiatives to create long lasting products and connect people with technology, environmental sustainability is part of Spectrum's culture. Spectrum practices environment sustainability by working with suppliers who do not hurt the environment, implementing recycling efforts, waste prevention and much more. Due to its environmental initiatives, Spectrum has received the Evergreen Award and SCS Indoor Advantage Certification.

SPECTRUM INDUSTRIES INC. PRESS CONTACT:

Carla Leuck, Marketing Manager
Spectrum Industries, Inc.
715-738-2118
cleuck@spectrumfurniture.com
www.spectrumfurniture.com









###