Back to News
Spectrum Industries' Offers K-12 Classrooms More Color Options
---
FOR IMMEDIATE RELEASE:
Spectrum Industries' Offers K-12 Classrooms More Color Options
CHIPPEWA FALLS, WI, May 2, 2018- Spectrum Industries Inc., a premier manufacturer of school furniture, has expanded its Expressions Line now offering new color options for its products.
Added to the Expressions Line were five new colored laminate and eight new metal finishes options. The new metal color additions include spectrum blue, yellow, signal red, light blue, orange, lime green, white, and warm gray. With new vibrant metal choices, Spectrum's products now have greater flexibility in any K-12 environment. In addition to the metal colors, the new laminate colors include royal blue, island (green), café sienna, navajo red, and gray. Spectrum's desks, collaboration tables, carts, and lecterns can now match your school colors or resemble your classroom's personality. With the new colors being added, laminate finish options Natural Tigris, Morrow Zephyr, and Indigo Organix will be discontinued. Please note that not all colors and powders are offered on all products.
"With color being an important part of the educational environment, we wanted to add more colors to the Expressions Line to help brighten up the classroom," said Dave Falkner, Spectrum's Product Manager. "Based on customer feedback from our partners and end users, color is important. The 13 colors added to the line creates a great amount of color combinations suitable for any environment."
In any environment, especially in education, it is important to acknowledge and understand how color can impact a student's learning abilities. Applying and choosing colors for the classroom should be done strategically. In aSpecddition, it is essential to remember the age demographic of students in the classroom when choosing colors. An over-abundance of color, or colors that are too bright can become distracting. Bright and primary colors can be used for classrooms with younger children, but cooler colors are best for high school aged students.
"Color is important for students to have in each classroom," said Joell Anders, First Grade teacher at Fall Creek School in Fall Creek, Wisconsin. "Color can also influence a mood set in your classroom. The color and shades-blue, green, purple tend to be calming colors for children. When you use the colors-red, yellow, orange- I use them more for accent colors because too much of those colors tend to energize students and overwhelm students with sensory issues."

Spectrum has created innovative furniture and has valued its customers. As a high-quality, niche furnishings manufacturer, developing products and new options for its customers is a component Spectrum values. With the K-12 classroom constantly changing, Spectrum keeps up-to-date with today's new technology and learning initiatives.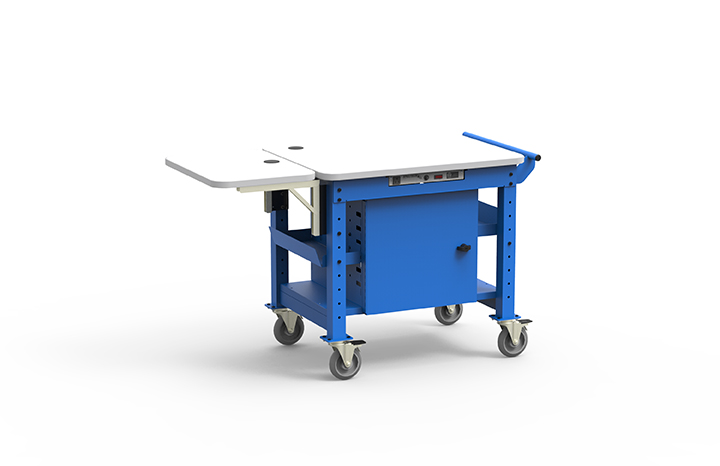 Learn more about Spectrum's Expressions Line