Back to News
Elegant Series Of Lecterns Raises The Bar For Media Management
---
FOR IMMEDIATE RELEASE:

Contact:
Carla Leuck, Marketing Manager
Spectrum Industries, Inc.
715-738-2118
cleuck@spectrumfurniture.com
www.spectrumfurniture.com

Spectrum Introduces New Line of Lecterns: Perfect for Managing AV Equipment

Description: Elegant series of lecterns raises the bar for media management

CHIPPEWA FALLS, WI – Spectrum Industries, Inc., Chippewa Falls, WI based manufacturer, presents the newly redesigned Media Manager Series of lecterns. Finally, a family of lecterns that is perfectly suited to match your décor while incorporating all of your AV and technology needs.

"The beauty of the Media Manager Series is not just in the elegant finish," said Robert Kensinger, Spectrum Industries Vice President of Sales. "But with this family of lecterns you can have the same look and design for every lectern, but with the variety of sizes available, it can fit into the smallest classrooms and simplest boardrooms to the largest lecture halls and presentation or training spaces."

Technology Meets Elegance

With the Media Manager Series, Spectrum Industries continues to be the industry leader by putting all your technology needs right at your fingertips, while fitting in any presentation space. This family of lecterns has a classic, elegant appearance, and are built with heavy-gauge steel. They are available with a flat surface, surround, or with an Overbridge Control Console for easy control access. Each lectern also has a removable rack cube which can be shipped separately for easy AV and IT integration.

Unique Quality

The lecterns in this family also have their own unique features that set them apart from each other.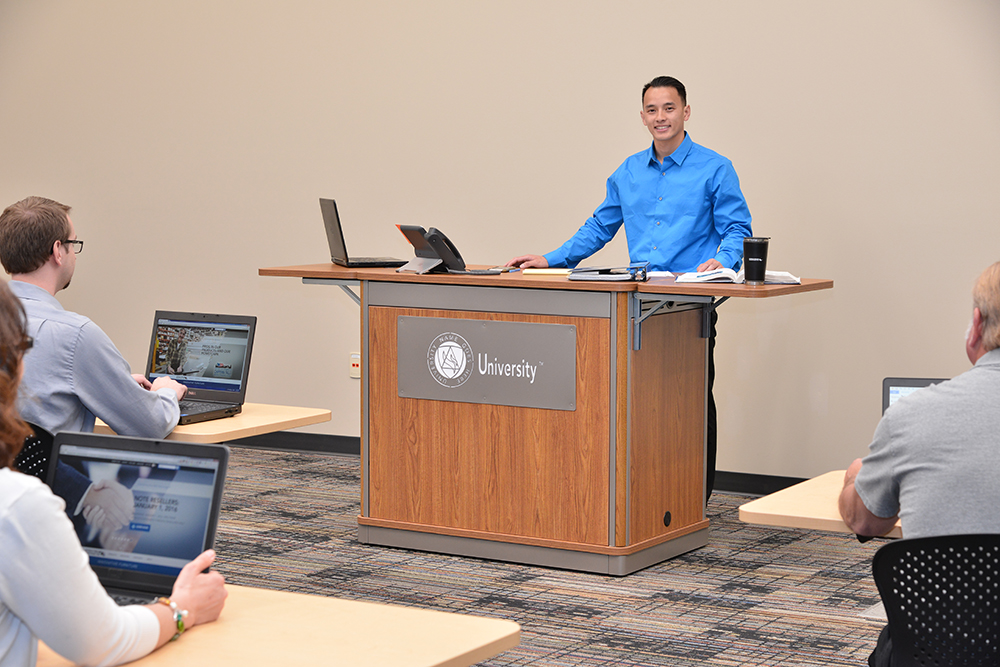 The Director Lectern is the largest in the series and boasts the ability to fit two full sized rack cubes for maximizing AV and technology integration.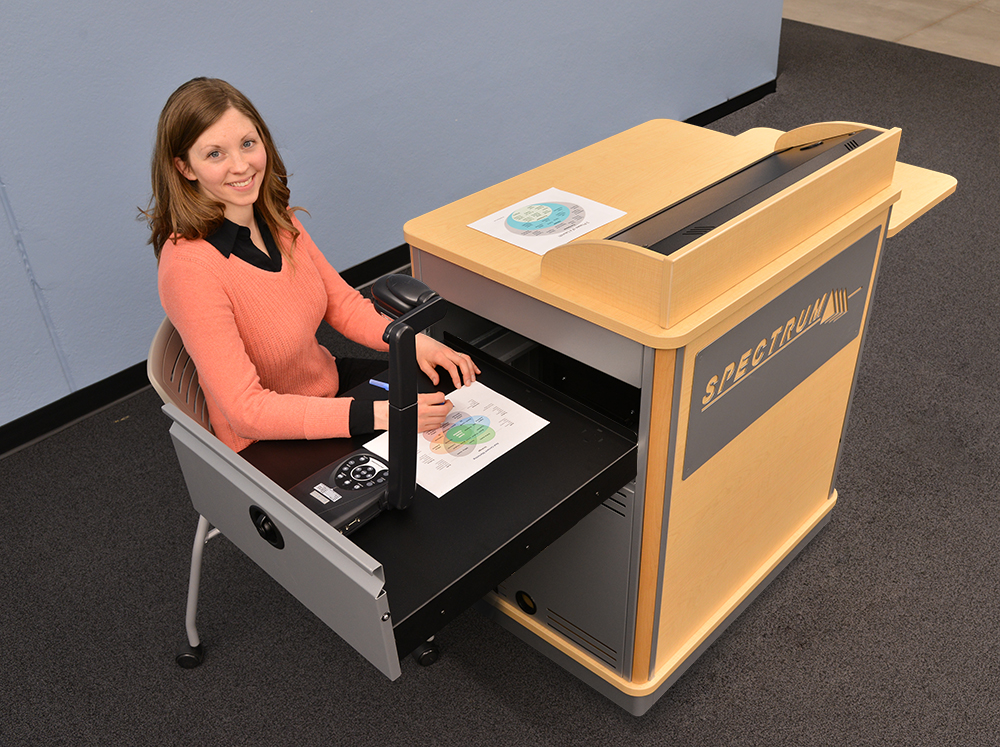 Protected with a dual-bolt lock, the Elite Lectern features a large document camera drawer that is at the perfect writing position and can be positioned either on the right or left side.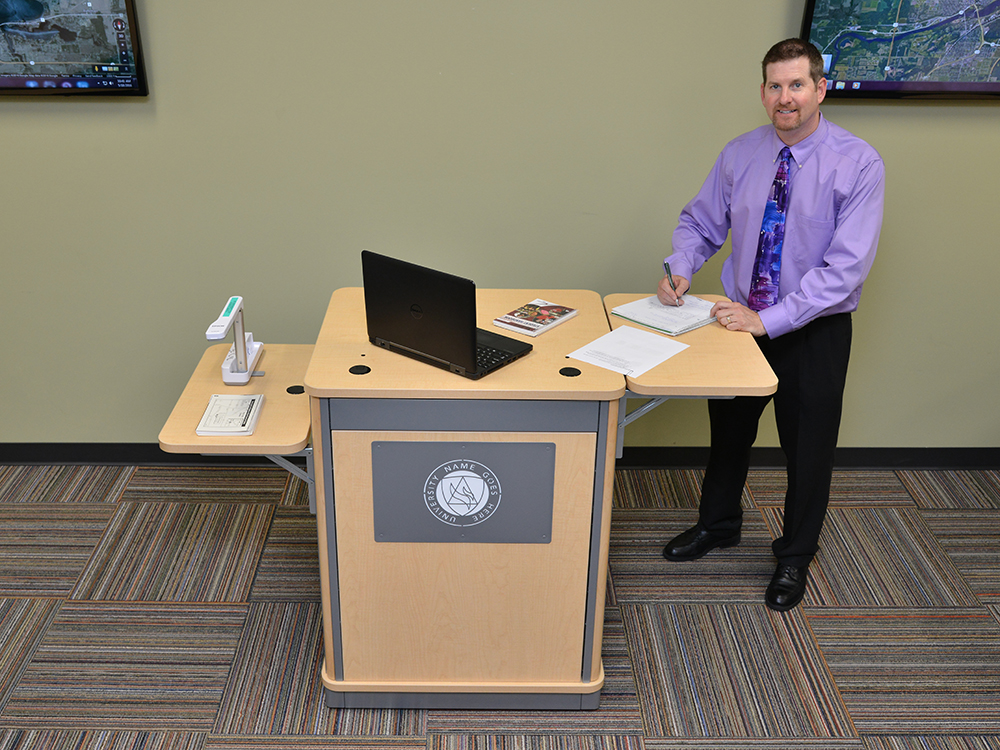 The Link Lectern comes in an optional 36" or 41" height to suit the needs of your function and design.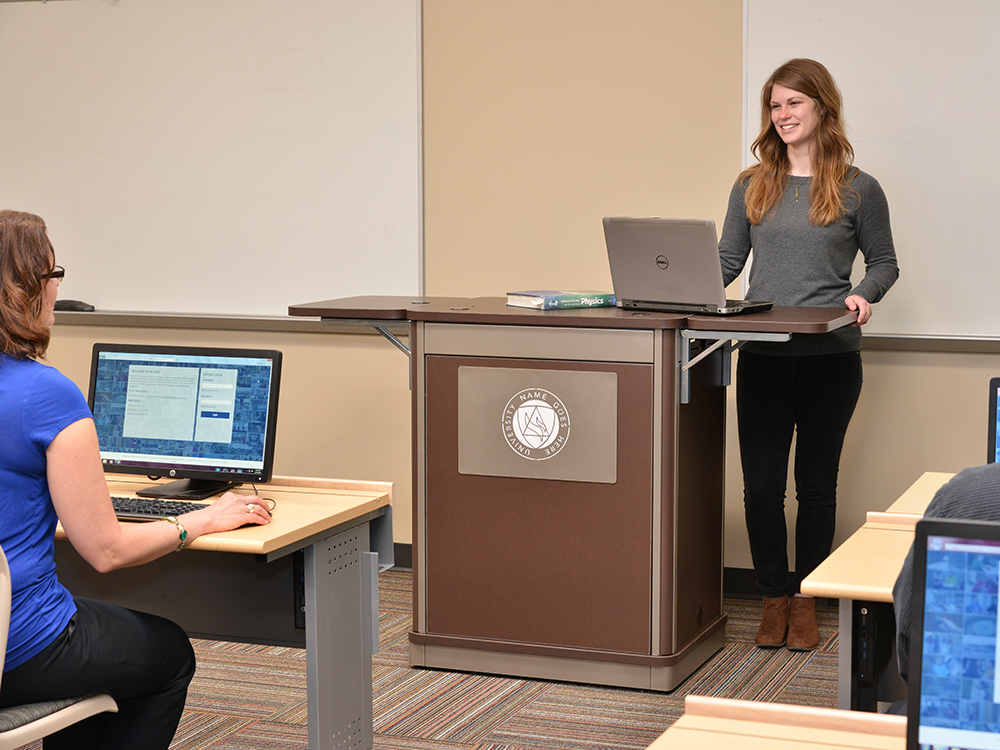 The smallest in the family, the Compact Lectern still offers great integration but in a footprint that will fit the tightest spaces.

Spectrum Expressions

The Media Manager Series can be ordered in our Spectrum Expressions line of laminate and metal colors which are designed to match our furniture to your room décor. The metal colors provide a tough, wear-resistant finish to metal parts. The laminates cover all worksurfaces and the matching vinyl edge trim provides the appearance of elegant custom built furniture.

Spectrum Industries is proud that the Media Manager Series is designed, assembled, and shipped from our factory in Chippewa Falls, WI. It is warranted to be free of all defects in materials and workmanship for 10 years.

About Spectrum Industries, Inc.

Spectrum Industries, Inc. is a provider of innovative, quality instructional furnishing products and services that represent preferred solutions to customer needs. Founded in 1968 and headquartered in Chippewa Falls, Wisconsin, Spectrum has gained a strong reputation for producing quality products in an environmentally responsible manner.

Recognized as an INC. 5000 honoree, Spectrum is a member of the FDM 300, certified for ISO 9001:2008 and SCS Indoor Air Quality and has been presented the prestigious GSA Evergreen award. Spectrum strongly values its close and long-standing relationships with customers throughout the United States, Canada, Latin America. Spectrum's cooperative partnerships with our well-respected customers drive the innovative environment at Spectrum.