Builder Cart

The Builder Cart is perfect for any building brick, circuit builder, or general maker supplies!
• Height adjustable from 30" to 36" to fit
a variety of ages and grades.
• Students have their own working space
yet face each other for easy collaboration.
• Locking pull-out worksurface.
• Easy rolling wheels to move anywhere.
• All metal construction allows for magnets
to stick to work surfaces.
• Bins can be easily added or removed.
• Use with Legos, magnetic letters, K'Nex,
Magna Tiles...any manipulatives.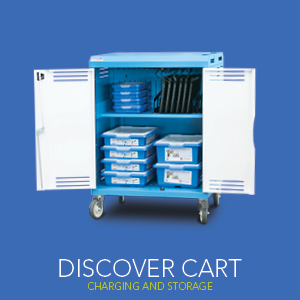 Discover Cart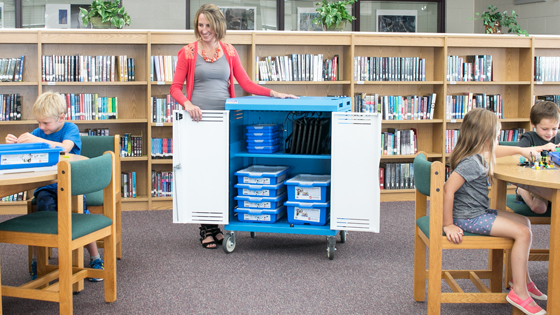 The Discover Cart enables students to build and code! Designed for Lego® WeDo & Education kits & devices, or Maker Your Own!
• Store and charge iPads and Lego
WeDo Kits (or science/robotic kits)
• The upper shelf allows for quick
and easy deployment of iPads.
• All the excess cords are behind the
removable rear panel which keeps
students separate from the power.
• Intuitive cord management
decreases setup time.
• Easy rolling wheels to move
throughout the classroom.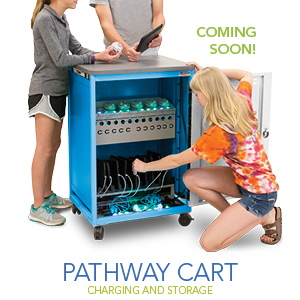 Pathway Cart

Simple upgradeable modules for coding robots, VR, phones and devices!
• Can fit both 12 large and 12 mini Spheros plus iPads all in the
same cart.
• Shelf that holds the Spheros can be removed for seamless
deployment.
• The cords for devices on either module are hidden within the
power management tray.
• Front loading wiring makes for convenient wire management.
• This cart will adapt as technology changes. If new robots/
devices are used in the future you can simply change the
interior module instead of purchasing a new cart.
• Exterior power switch or cycle timer.