5 Factors to Consider When Designing a Classroom
Education is meant for students to create, expand their knowledge, collaborate, and discover new passions. Children in the classroom should feel inspired to want to make a difference in the world and empowered to build and construct new innovations. The design of a classroom is one of the most important aspects to a child's education, especially when a majority of a student's childhood is spent in the classroom. With that being said, it is immensely important to consider how classrooms are designed.
Spectrum Industries Inc., as a premier manufacturer of classroom furniture, designs and innovates products specifically for collaboration, makerspaces, flexible classrooms, and more. In addition, Spectrum designs room layouts that can suit any classroom. Follow along and learn how you can design your space to instill communication, collaboration, creation, and critical thinking in the classroom.
1) Purpose
What is the purpose of this space? What are the student's needs? What will spaces or areas be used for? Asking these questions will help provide the layout of how your classroom will function and will define what areas should be used for.
In addition to asking what student's needs are, also ask how and where they like to learn and why. Involving students in classroom design not only helps teachers understand their students' learning habits, but it also provides the opportunity for students to express the way in which they prefer to learn.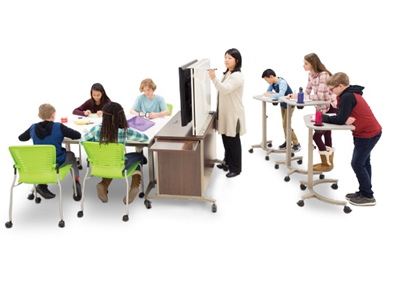 2) Less is More
Clear classroom space by eliminating unused materials, furniture, or technology. Classroom design should be strategically constructed to enable movement and collaboration among students. While doing this, remember to keep in mind what each space is being used for and how it fits student's needs.
Another aspect to keep in mind when designing a classroom is to keep walls bare and color choices neutral or monotone. An overabundance of wall décor or color in a classroom can over stimulate students and distract them from what they are learning. Consider how color will act as a functional aspect to help students.
3) Flexibility
To "learn by doing" is one of the many reasons why the classroom has changed from traditional, single-rowed desks, to spaces with large tables or worksurfaces that allows multiple students to collaborate. Pieces of furniture that include components such as a dry-erase board, provide a fun and innovative way for students to learn. In addition, furniture that is height-adjustable can help any student of any height feel comfortable sitting or standing.
Mobile furniture is another component that can assist in classroom flexibility. Materials and furniture that can be easily moved around the classroom, or from room-to-room allows students to take control of their learning space.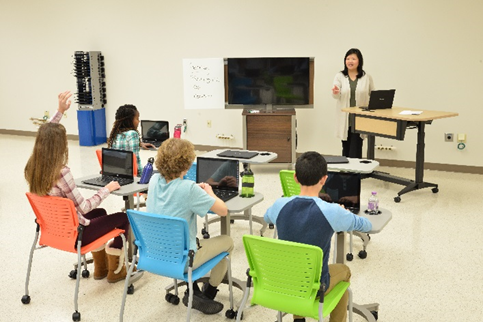 4) Accommodating Furniture
Accommodating furniture in a classroom allows teachers to be more mobile and easily see how students are learning, applying creativity and collaborating together. How a classroom functions should correspond with how students will utilize their creative space, whether they are working by themselves or within a group.
Whether a student prefers to be at ground level and learn, or standing at a desk, furniture that accommodates various students learning styles is necessary.
5) Designers
Last but not least, allow students to provide input and feedback on how they prefer to learn and in what type of environment. Allowing students to share this type of information shows that as a teacher, you care about their learning experience. Let the students become the designers of the classroom and utilize their comments to strategically design your classroom.
About Spectrum Industries Inc.
Spectrum Industries is a premier manufacturer of school furniture products that facilitate learning by incorporating innovative designs with technology and communications equipment. Lecterns, tables, desks, carts, and chairs are products that Spectrum innovates to connect people with technology. The TechCenter, Flex Active Flip Table, Pivot Jr., and makerspace carts are just a few of Spectrum's most flexible products that can be used in any learning environment. For over 50 years Spectrum has made quality and durable educational products. Find the perfect product for your classroom at:
http://www.spectrumfurniture.com/en/
.
Discover More Blog Posts Here