How to Build a Makerspace in your Library

Libraries are becoming the learning space of the future due to the innovation of makerspaces and new learning tools. Libraries not only are allowing students to create and collaborate, but are giving students the opportunity to learn the process of creating and the problem solving skills that go along with it. Most importantly, instead of reading about creative and coding concepts, students are using libraries as spaces to actively learn and apply these concepts in a hands-on environment.
Makerspaces in libraries have also become an environment where resources are offered that may not be available in the school's classrooms such as 3D printers, robotics kits, or a wide variety of arts and crafts.
With that being said, how do you create a makerspace in your library? What kinds of supplies and tools should be offered? Together, let's build a makerspace in your library and create the ultimate learning space.
First, begin to gather materials. It's that simple! For a low-cost library makerspace, gather Popsicle sticks, pipe cleaners, beads, cardboard, and balloons. If you would like to use more high-tech materials, 3D printers, robotics kits, and coding kits are all tools that kids can create with. A wide variety of materials provides opportunities for students to pick and choose what they would like to build with.
Next, storage and organization solutions for your makerspace materials are essential. In your makerspace, include storage options such as bins, totes, drawers, or shelves for easy accessibility to maker materials and to be able to secure projects when completed. These types of storage solutions can help organize materials and instill responsibility among students when time to clean up their materials and tools.
Third, if your library's makerspace will be using high-tech materials and objects it is important that your makerspace environment includes charging solutions. Outlets, USB ports, wireless charging, or mobile computing carts that can store and charge your robotics kits, laptops, and virtual reality goggles are great charging solutions for this type of learning space.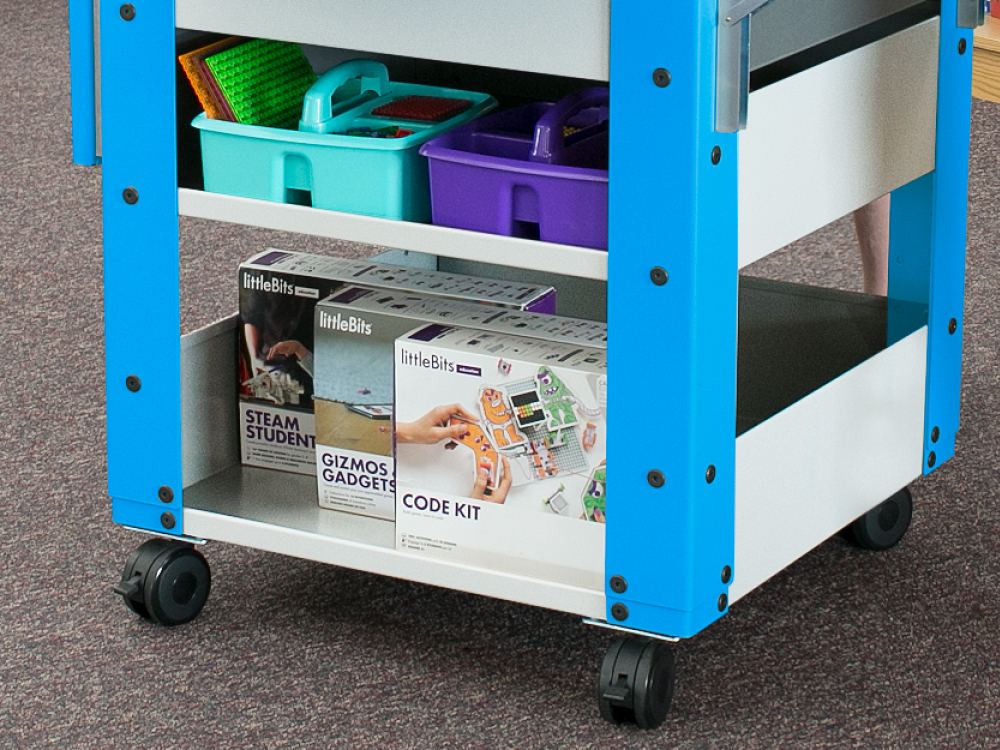 As one of the newest products added to Spectrum's Makerspace product line, the Discover Cart can store and charge up to 10 laptops and hold up to 10 coding kits such as LEGO's® WeDo® kits. Spectrum has also innovated other charging products like the Collectiv8 Charging Pillar that will charge up to 8 tablets, Chromebooks, or notebooks at one time. In addition, Spectrum has its own virtual reality cart called the VR30 Device Cart, that can store and charge up to 30 virtual reality goggles and cell phones at once.
Fourth, tables, desks, chairs, and other pieces of furniture should be strategically located for students to be able to collaborate or for students to work peer-to-peer. Format furniture in a U-shape or in pods. This provides options for students to choose how they would like to tinker, build, and create.
Finally, when building your library's makerspace include height-adjustable furniture and ADA compliant furniture to accommodate students of all learning abilities. Spectrum's Freedom One eLift Desk can be adjusted from 28.5"- 42" easily adapting to the perfect height for any student to work at. The Freedom One eLift Desk is ADA compliant and mobile to provide easy reconfiguration in any learning space.
In addition to the Discover Cart, the Builder Cart is one of Spectrum's newest additions to its Makerspace product line. The Builder Cart can be adjusted from 30"-36" and was designed with height-adjustability in mind to accommodate learning preferences whether it be in a seated or standing position.


It is important to remember that libraries have been transforming from a place where students were meant to read, find sources, and work in total silence. Now, libraries are places where students are encouraged to foster their creativity and explore. Makerspaces in libraries are shaping our future leaders by providing a space for students to use their imagination, build, create, and develop 21st century skills while having fun.
Discover More Blog Posts Here