Teaching styles vary greatly among all educators. But whether you prefer to instruct at the front of the classroom, or throughout the entire classroom, now you can engage with elegance with Spectrum Industries' Pivot Premier.
Originally developed with the University of Indiana, The Pivot Premier was designed for the integrated, active, higher ed learning environment to allow you to connect to technology while taking your work with you.
Spectrum's Pivot Premier can charge and power laptops and electronics with its optional power module and boost your mobile device battery with its optional EM Wireless Charging Pad. This technology enhanced workstation can also store and organize all of your AV equipment in the easily accessible, optional rack unit.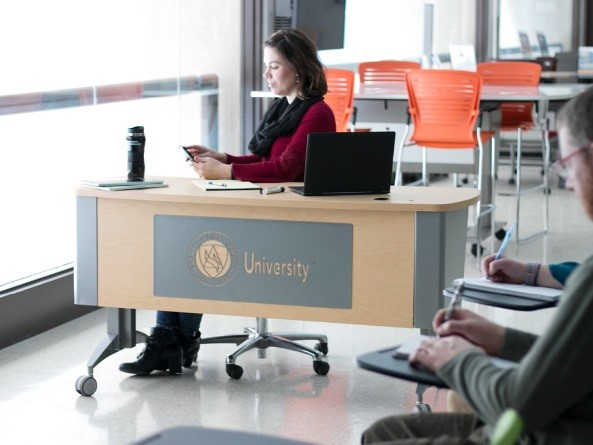 Adding to its long line of quality built, durable furniture, Spectrum's Pivot Premier was designed to provide the best solution for every customer. That's why the Pivot Premier not only can be used as an instructor workstation, but with its sit-to-stand capabilities, it can also be used as a desk for students.
The adaptable Pivot Premier can accommodate one ADA* compliant seat while its whisper quiet eLift™ legs can adjust to personalize the height for every user.
"The Pivot Premier is a versatile workstation that can be used in various classroom and presentation applications," stated Ben Jones, Spectrum's Vice President of Sales. "The sit-to- stand capabilities of the Pivot Premier provide flexibility for the user to position the workstation to the desired height as well as meets ADA* compliance."
The Pivot Premier's mobility, large worksurface, and removable modesty panel for quick access to AV equipment contribute to its versatility and flexibility.
With the Pivot Premier now you can transform your teaching style by taking your technology and materials with you wherever, whenever in the classroom.
*ADA compliance dependent on options selected. See Spectrum for details.
Discover More Blog Posts Here