Two new, exciting products have dropped here at Spectrum Industries this week, and we couldn't be more thrilled to share them with our customers! The SE30 and the Connect24 join our range of high-quality,
charging carts
on wheels.
After listening to our customers, we've designed the SE30 and the Connect24 to accommodate the most popular request: tiny tablet and laptop charging carts! "They asked, and we delivered!" accurately describes why these two new products were born.
The
SE30
and
Connect24
bring Spectrum's build quality and years of IT furniture development experience to your school's classrooms, libraries, and offices, with designs specifically made to satisfy customers looking for extremely small mobile storage and charging units for their devices.
But don't worry! Even though the SE30 and Connect24 come in smaller packages, they still pack a punch when it comes to features and design specs. Both charging carts have numerous overlapping design elements that make them versatile for any classroom or office. However, we want to highlight a few key differences that make them uniquely suited for specific Spectrum customers, depending on their budgets and charging cart needs.
Here are a few reasons why the SE30 Charging Cart & Connect24 Mobile Device Cart should be on your radar (and in your classroom or IT office) in 2022!
Design Specs & Features Of The SE30 & Connect24
Smaller Footprint
The SE30 and Connect24 were specifically crafted to charge devices while taking up less space. So we've considered every detail to reduce their overall footprint, including an integrated handle on both models to conserve precious classroom real estate.
Now you can tuck these carts in the corner, under a shelf, or somewhere else less conspicuous because these carts are small enough to fit in most spaces. We've designed these charging carts for schools and offices, no matter how small they are!
SE30
If you're looking for a storage solution with basic charging capabilities (plus that small footprint we've mentioned), the economical SE30 is an excellent option for a classroom, library, or IT office!
When we say small footprint, we're talking 22" wide and 24" deep! The SE30, in particular, has an even smaller footprint than the
SIM32
, which was previously the smallest tablet charging cart on our product line.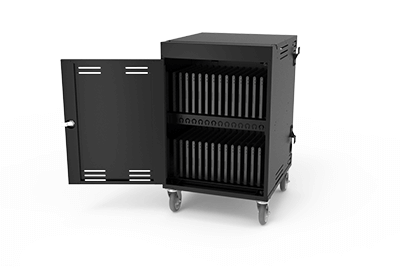 Connect24
While not quite as compact as the SE30, the Connect24 is also specifically crafted to have a minimal footprint. At 20.5" wide and 25" deep, this charging cart has all the features of the Connect36 family, just wrapped in a smaller package.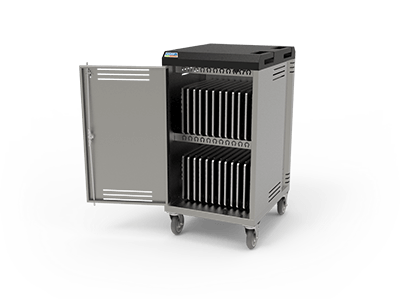 Optimal Storage
The SE30 and Connect 24 are perfectly sized for storing and charging various devices in one handy and organized place.
SE30
In an ode to its name, the SE30 can fit up to 30 iPads, Chromebooks, tablets, smartphones, (some) laptops, or VR equipment. If your device is less than 14" wide, it will fit snuggly inside this charging cart.


Connect24
Even though it's officially the smallest cart option in the Connect family line, the Connect24 still provides ample, full-size storage for charging devices up to 17" wide. With its larger storage space, the Connect24 is perfect for storing and charging a variety of devices, including everything from tablets to laptops.
Lightweight Mobility
When it comes to weight and mobility, there isn't too much to differentiate between the SE30 and the Connect24. Not only are these models the smallest footprint in their respective product lines, but they both boast lightweight mobility for easy handling.
If you want to move the SE30 or Connect24 charging cart around, we've got you covered. With the rugged steel construction and 5" Casters, both carts were designed to be durable, lightweight, and have improved mobility for effortless movement around the classroom, library, office, or from room to room.
Superior Cable Management
Are you tired of tangled cables? We don't blame you. Like most of our charging cart models, the SE30 and Connect24 have a built-in overhead cable management system that calms the cable clutter by keeping all wires organized and out of the way. After you set up and organize your cables once, you're good to go.
Organization
Nothing is worse than opening up your cart to find devices stacked on top of each other in a heaping, messy pile. To avoid this exact issue, we've built strategic organizational components into the SE30 and Connect24.
SE30
The SE30, in particular, has the option to include removable QuickBrick™ wiring trays which organize adapters and up to 30 educational devices. This optional removable tray allows you to move the entire wiring system outside of the cart, either at the comfort of a workstation or desk, to provide quick and easy integration.

With a front-loading access point for both wiring and deployment, you don't have to worry about moving from the front of the cart to the back to wire devices. It's all easily accessible in one handy location.


Connect24
With flexible dividers to protect and organize a variety of devices, the Connect24 also comes with large wiring trays that provide convenient and integrated storage for optimal organization. The Connect24 has a front-loading access point for devices and a power-side locking access panel in the back. Luckily, it's lightweight and easy to move!


Power
Since we're talking about charging carts for devices, power and charging were always going to be a part of the conversation. Here is where the difference between these two products comes to light regarding power.
SE30
As the more economical option, the SE30 has a basic powering system that includes two power cords and the ability to charge Chromebooks, tablets, smartphones, or any device under 45 watts each.


Connect24
The Connect24 offers two electrical options for optimal power. The
Power Switch
allows all devices to be charged simultaneously and has a maximum charging capacity of 1,400 watts, perfect for charging low-wattage devices like tablets, phones, and some Chromebooks.
The Connect24 model also features our built-in
eLogix™ Timer
. With a maximum capacity of 2,880 watts, this sophisticated timer alternates charging half of the devices for 15 minutes before switching to charge the second half of the devices for the next 15 minutes. Note that this cycling occurs automatically and is not adjustable.
In addition to its single power cord, the Connect24 also sports rotated outlets that can support a wide variety of device adapters. It has an exterior on/off switch that makes charging devices simple and fluid as you go about your busy day.
Security
If you want to keep little fingers away from charging devices, consider the Connect24 and SE30. Both carts have a double-bolt lock and the Connect24 includes a hasp for a padlock (not included). Both the Connect24 and the SE30 are made with heavy-gauge steel and have lockable front and back access points for an extra layer of security.
Who the SE30 and Connect24 Are For
While the SE30 is best for K-12 educators and the Connect24 for K-5, both charging carts are great options for anyone looking for a tablet, Chromebook, and laptop charging cart on wheels. With their lightweight mobility, everyone from teachers and students to janitors can move the carts around with ease making the space more versatile, functional, and simpler to clean.
If you enjoyed all of the features of the
Connect36
model but want a smaller footprint for your charging cart, the Connect24 is the perfect option.
With the smallest footprint available in our line and a budget-friendly price point, the SE30 is a great charging cart option to get your feet wet and experience the quality and design precision we pride ourselves with at Spectrum Industries.
For more information on any of our products, including the SE30 and Connect24, contact Spectrum Industries today!
Discover More Blog Posts Here