CHIPPEWA FALLS, WI, August 27, 2018
- Spectrum Industries Inc. can help the battery life of your device become energized with its new product, the EM Wireless Charging Pad.
Once the EM Wireless Charging Pad is installed into one of Spectrum's tables or lecterns, simply place a phone or computer on top of the pad and the device will begin to charge through electromagnetic fields. This charging pad allows any device that has Qi technology to charge without a cord. Tables that are compatible with the EM Wireless Charging Pad include the Optio, Flex Active, Flex Active Flip Table, InVision Element, and InVision Access Nano. Lecterns that comply with the new charging solution include the Pivot Workstation, Honors Lectern, Freedom One eLift, Freedom XRS, and Spectrum's Media Manager Series which include the Director, Elite, Link and Compact lecterns.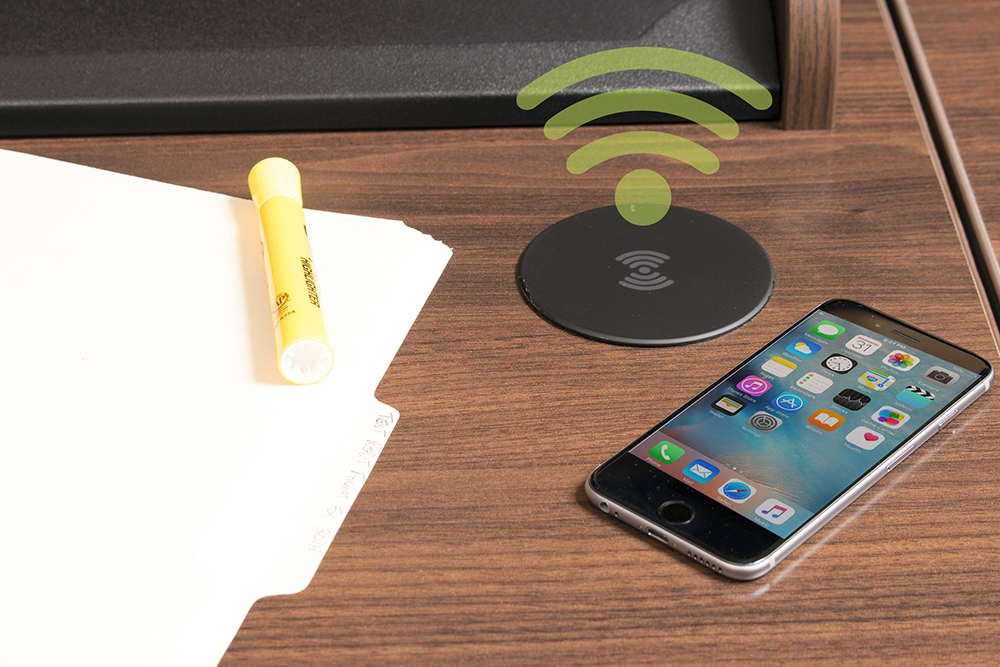 "As we increasingly rely on our mobile devices to provide us with valuable information, keeping devices powered becomes especially important," said Greg Mazur, Spectrum's Vice President of Project Management. "Being able to do so without charging cords is becoming a necessity in today's classroom. Students and faculty are so reliant on technology, keeping devices charged is important in today's educational experience."
With this new product, "where do I plug in?" will no longer be whispered in classrooms and collaboration space. Power now lies within the table ready to charge anybody's device.
Discover More Blog Posts Here