The Miracle League: It's More Than Just Playing Ball
"Take me out to the ball game. Take me out to the crowd…For its one, two, three strikes you're out at the old ball game!"
"Take Me Out to the Ball Game" as well as the National Anthem are two songs that are sung at every Chippewa Valley Miracle League baseball game.

The Chippewa Valley Miracle League provides children with mental and/or physical disabilities the opportunity to play ball and make new memories. Children of the Miracle League, whom are between 4 and 19 years of age, each work with a buddy who helps them bat, maneuver from base to base, and play in the outfield. Each baseball game consists of two innings and are one hour.
With the help and initiation of Tim Wavrunek, Shawn Standiford, Technical Support Specialist at Spectrum Industries Inc., and his wife Amy Standiford, along with parents and volunteers, partnered with Goodwill Industries of North Central Wisconsin and the City of Eau Claire, the Chippewa Valley Miracle League was created.


In total, a whopping $525,000 needed to be raised in order for the field to be built at Jeffers Park in Eau Claire. With a donation of $100,000 from Goodwill and from community support, the baseball field opened in June of 2017.

Just like Amy and Shawn Standiford, you can find many other parents, neighborhood, friends, teachers, and acquaintances cheering on their children, friends, or students in the bleachers at the Miracle League field.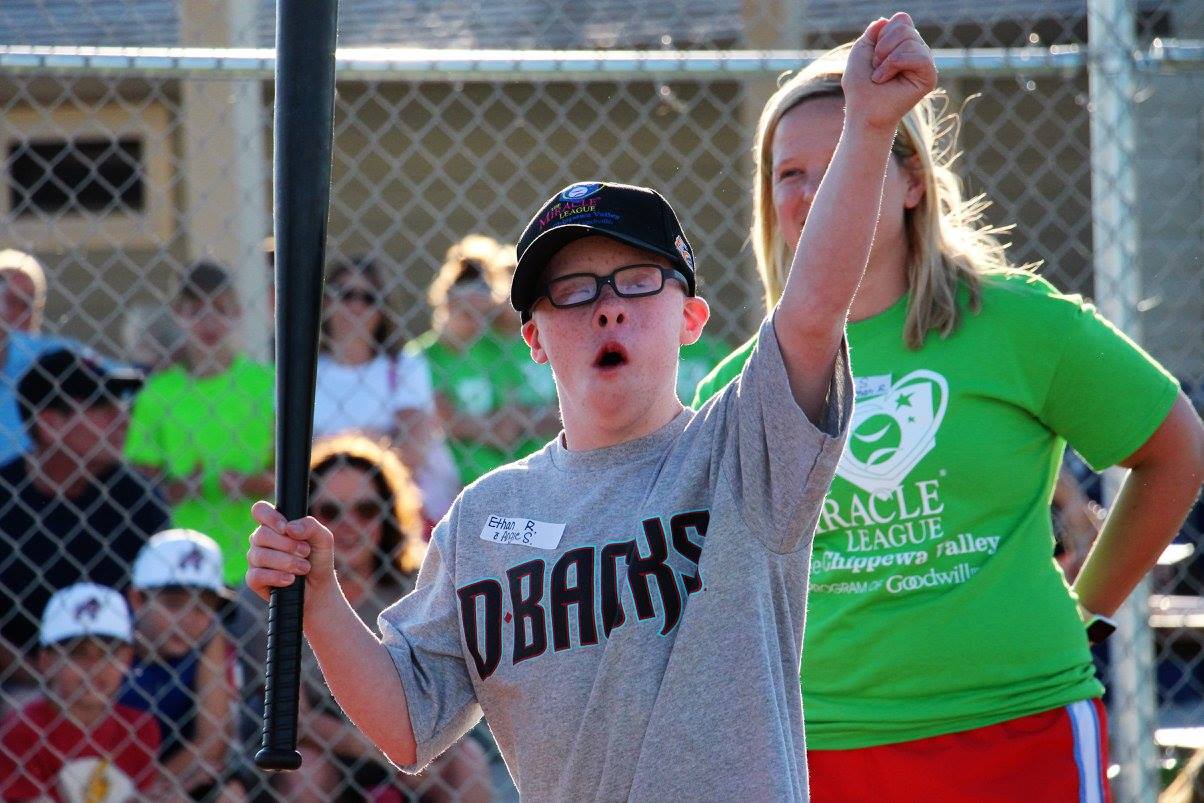 "I am the proud momma of a Miracle Leaguer!," Amy Standiford said. "Our son Sawyer is 12-years-old and has Down syndrome. We have been blessed to have Sawyer involved and participate in regular Little League for years, but with the league rules focused on age, it's getting harder and harder for Sawyer to compete. Sawyer loves everything about the game of baseball (especially the hot dogs and popcorn) and we wanted to make sure that we tried to give him that opportunity and to continue to have love for the game."
Not only does the Chippewa Valley Miracle League provide opportunities for children to play baseball, it also provides opportunities for players to gain confidence, self-esteem, learn from others, and make new friends. In addition, the Miracle League provides parents with new opportunities as well.


"The Miracle League gives parents an opportunity to be part of something bigger other than their child's disability," Amy stated. "It's about finding an accepting group of families that understands and encourages children to do their best. It's about being like every other family looking forward to their child's game."
2018 was the Chippewa Valley Miracle League's second season with a total of 109 participants broken into 8 teams. Each team of the Miracle League, as well as each player's buddy is sponsored, and games are composed of many cheering fans, umpires, volunteers, and announcers.
If you would like to become involved in the Chippewa Valley Miracle League, you can visit www.chippewavalleymiracleleague.com, like them on Facebook, or sign up for newsletters. The League is looking for players for future seasons, volunteer buddies, coaches, umpires, announcers, committee members, and sponsors.
"Come to the Miracle League field at Jeffers Park and watch a game from the bleachers," Amy stated. "You'll be moved as you have never been moved at any other athletic event. You'll find it unforgettable, and you will be so glad you were there."
Discover More Blog Posts Here