Along with math, social studies, and English, students are also learning how to code by using robotics like LEGO's® WeDo 2.0 Kits and the Sphero®. These are just two of many learning materials that are being incorporated into STEM and STEAM disciplines.
The Sphero is a robot that is controlled through the Sphero Edu app that allows students to code their Sphero in three different ways. Coding the Sphero can be programmed by drawing paths that represent the code for their Sphero to follow; by using block-based drag and drop interface; and also by using JavaScript.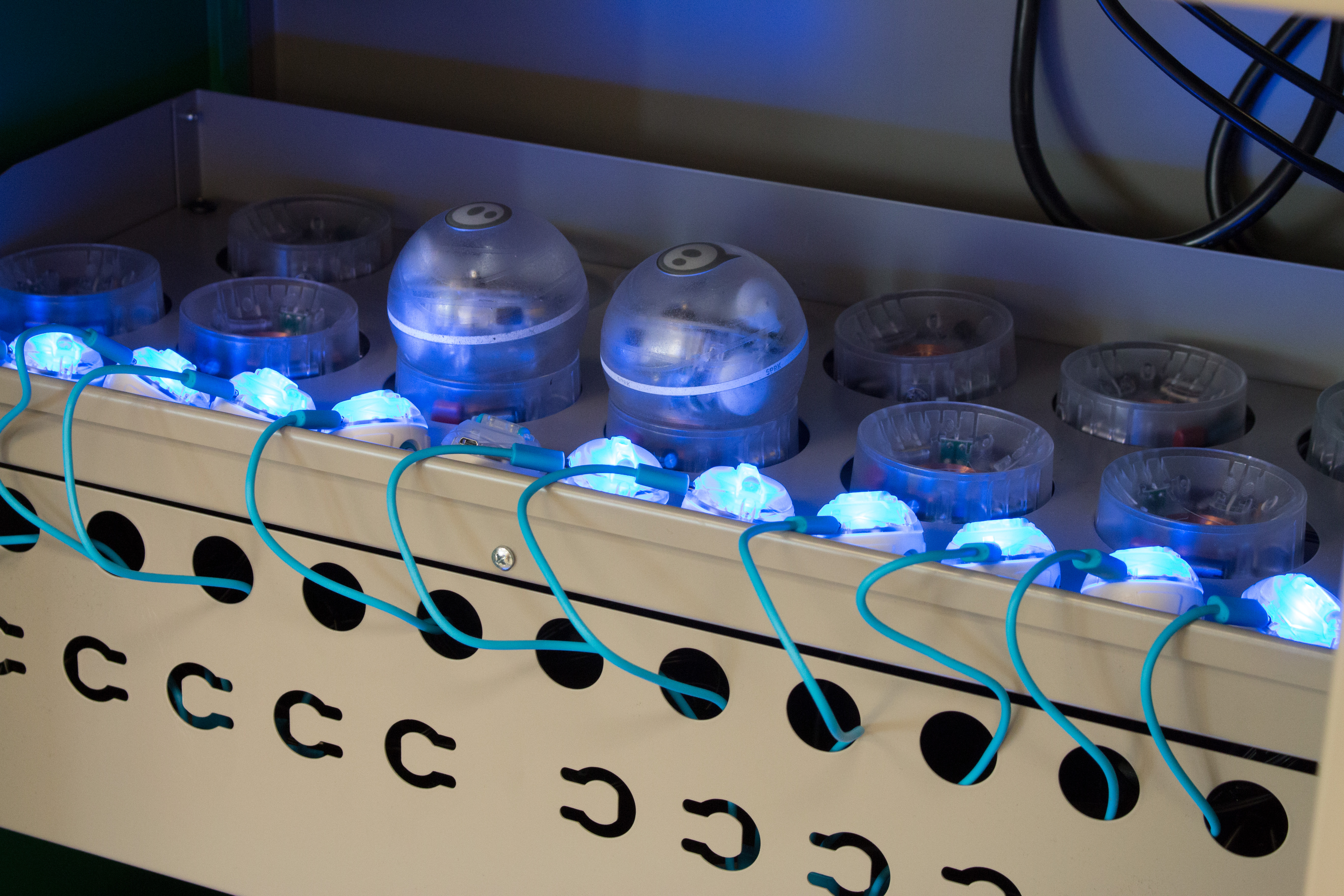 One of the many great aspects about Sphero 2.0 is that with its three different programming levels, students of all ages and skills can utilize this learning tool.
Sphero products include the Sphero Mini, Sphero 2.0, Ollie, Sphero SPRK +, and the Sphero BOLT. Sphero has also designed and has innovated Spheros specifically for Star Wars™, Marvel, and Disney Pixar.
At a rapid pace, the Sphero is rolling its way into many schools and classrooms, like Fall Creek's, where students are programming their app-enabled robotics.
Middle school science teacher, Chris Mackey-Natz of Fall Creek Schools in Fall Creek, Wisconsin, uses Sphero's to teach his students. Fall Creek Schools hosts chariot wars and chariot races where students program their Sphero's and have them battle one another. Mackey-Natz's students used a robotic printer to print their chariots.
"This is problem-based learning," stated Mackey-Natz. "The kids are learning how to problem solve, which is so important. We have a unit with robotics, programming, and running robots. We have chariot wars and chariot races. We use Sphero's to help students easily learn programming and complete hands-on activities."
Teaching techniques that allow students to create and "learn by doing," can help students learn from their actions, why something is occurring the way it is, and how to problem solve. Spheros, STEM, and STEAM disciplines, provide students with opportunities to develop a growth mindset and can help build confidence. This type of open creativity and freedom for students to learn, can often diminish the fear of failure by students.
"The kids are learning how to problem solve, they're going to make mistakes," stated Mackey-Natz. "I've had kids print four chariots because each version had something wrong with it, so they would have to go back to the drawing board, problem solve, and re-do it."
This type of learning that engages students, inspires critical thinking, problem solving, and creativity, is called computational thinking. This type of thought process breaks down large problems into smaller steps in order to solve it.
"Computational thinking covers more than learning how to code or even how to use computers," stated District Administration's article, "K12 Students Code Beyond Computers." "Rather, it teaches problem-solving techniques that draw heavily on logic, sequencing, and trial and error. It also promotes persistence, confidence, and tolerance for ambiguity, according to ISTE and the Computer Science Teachers of America."
Computational thinking can be applied to any subject and is a method of learning that is changing the way in which students are learning in the classroom, especially by using robotics.




Although Mackey-Natz uses the Sphero in his classroom, he struggled to find a way to organize, store, and charge Spheros and devices; that's when Spectrum stepped in and provided a solution to his problem. Spectrum's headquarters located in Chippewa Falls, Wisconsin, just a hop, skip, and jump away from Fall Creek, Wisconsin, listened to Mackey Natz's needs and developed the Pathway Cart that would help solve his storage, charging, and organizational dilemmas.

The Pathway Cart has the ability to charge 12 Spheros and 12 iPads. The cart features five inch balloon wheels for easy room to room mobility, removable shelves for easy integration of devices, and can store and charge other robotics such as Dash and Dot and the Ozobot.
"Last year, we had to carry all the Spheros down individually to where we would have the chariot races, we had a bank of plugs for charging and we were constantly looking for outlets. Spheros were on top of tables and were on the ground, it was a mess. Now that we have this cart from Spectrum, for example, everything this morning was charged and I was able to wheel the cart down to the chariot races and plug it back in."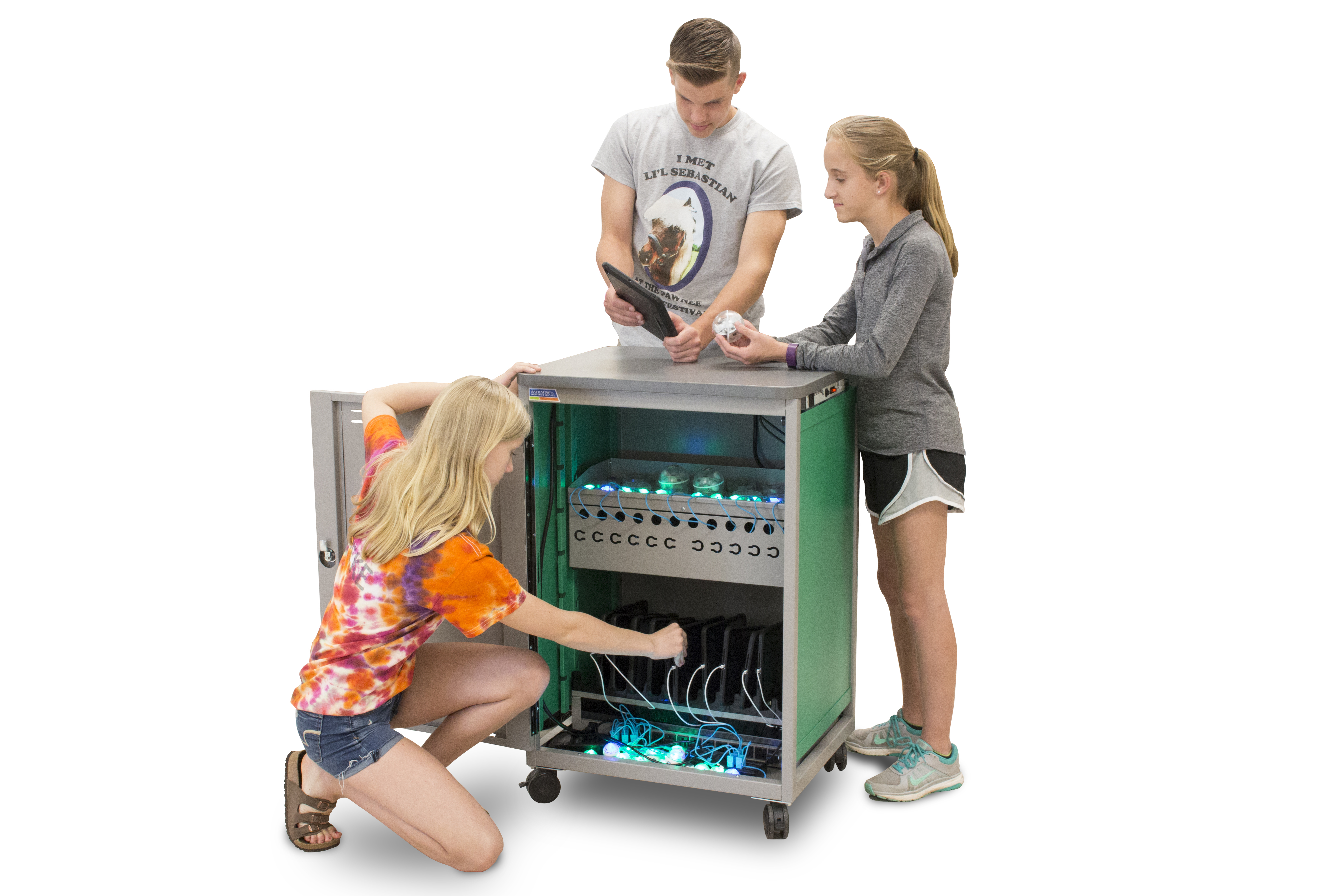 The Pathway Cart was designed and created by Spectrum to assist with classroom learning, engagement, communication, critical thinking, and collaboration. Spectrum has been designing products for the classroom for over 50 years and guarantees complete customer satisfaction.
"From design to delivery, Spectrum is constantly innovating," said Ben Jones, Spectrum's Vice President of Sales. "We take our customers' needs seriously by providing options for accessories, and colors, and incorporating customer feedback into new and improved products."
Discover More Blog Posts Here